The following images represent some of the work I've done over the last several years. Earlier work has the block backwards-B K on the right side of the blade. Newer work has my new maker's mark etched into the left side of the blade.

This knife is the second of a three knife order (the first to be delivered is further down the page). It is 5/32" CPM154, plate quenched with a LN cryo, 3.5" blade, 7.5" OAL, Arizona Desert Ironwood scales with black vulcanized spacers, and a custom leather sheath. Different angles and lighting in the pictures below really bring out the depth of the ironwood. It has excellent chatoyance in the sunlight.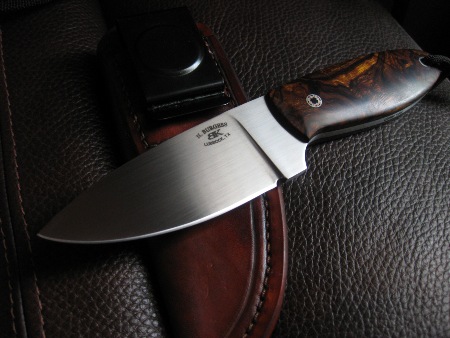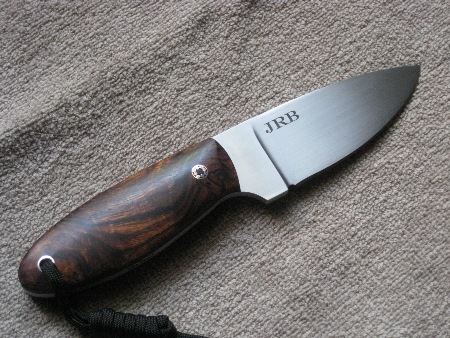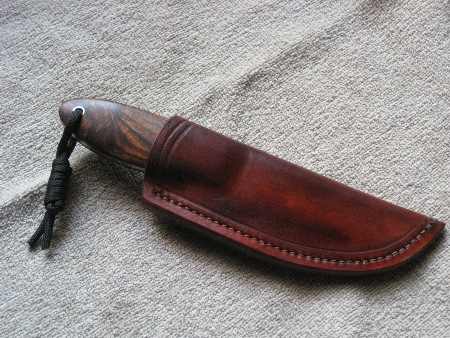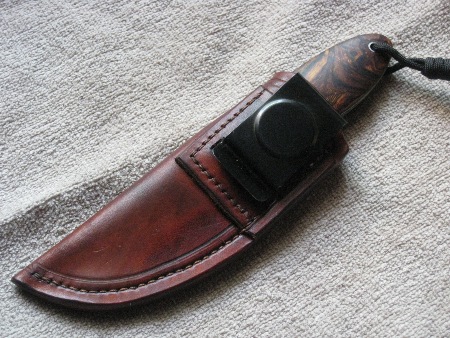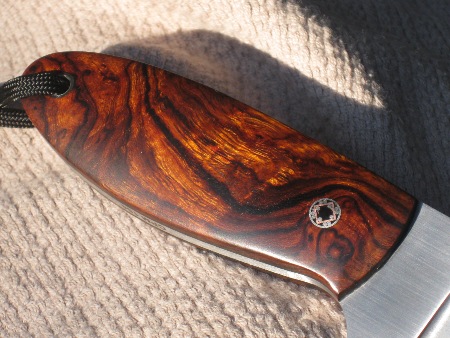 This next knife is a little daily carry knife I compled for myself. I helped out a fellow knife maker in heat treating some kitchen blades recently, and he sent me this little blank of his design that he had cut by Great Lakes Waterjet; it's made of 1/8" 1095 high carbon steel. I ground the bevels and decided to attempt to acheive my first hamon during the heat treatment. Using a clay, I coated the spine of the knife and heat treated with an interrupted quench in Park's #50 oil. I etched first after hand sanding to an even 400 grit finish. From there I hand sanded up to 1000 grit and etched several more times in dilute ferric chloride. After that, I polished the blade using first red rouge and WD40 followed by a rub with 0000 steel wool and oil. The handles are Arizona desert ironwood with black spacers secured with epoxy, stainless tubing, and a corby bolt. Blade is 3" with a 6.5" OAL.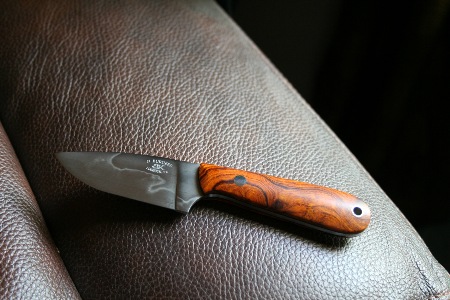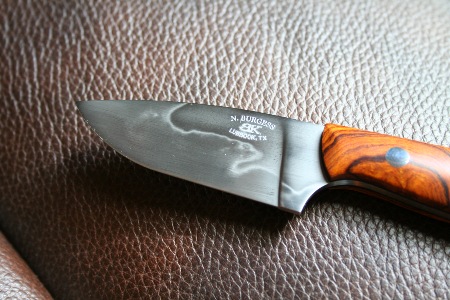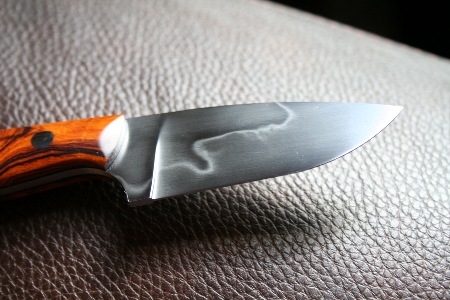 One of three son-gifts for a local customer. Cryo treated CPM154, a hand rubbed working finish, desert ironwood scales with black vulcanized spacers, and a custom leather sheath also made in shop: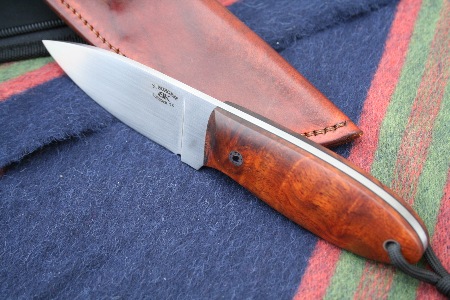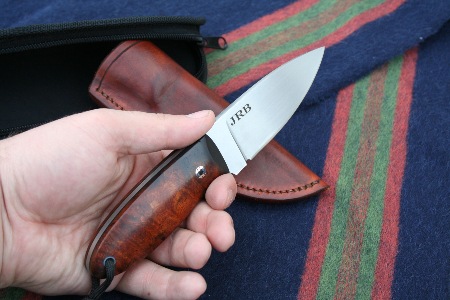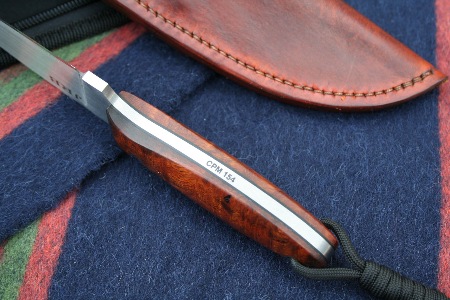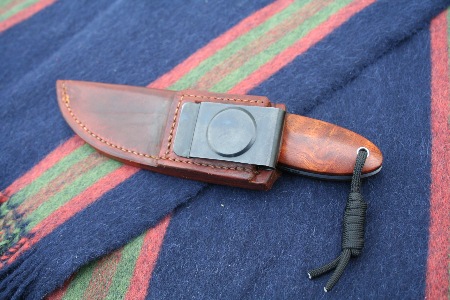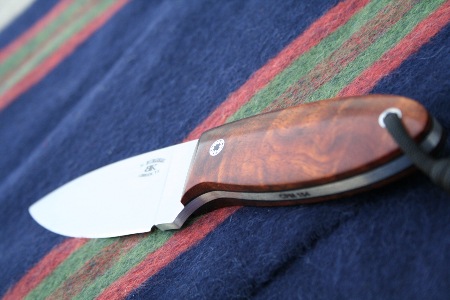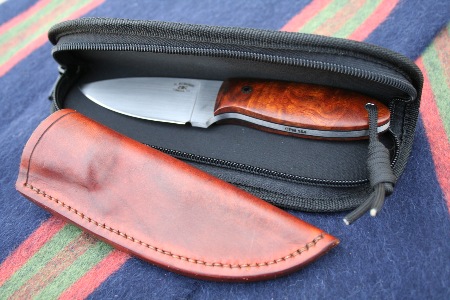 This knife was my sister's Christmas present this year. I was late in getting it to her because I was waiting on some kydex for the sheath. It is a small version of my EDC (she has small hands) with a flat ground 440C blade. The handles are heat-colored purple heart with white spacers. The sheath is custom 0.06" kydex. This one feels really great in hand and is a perfect size for easy concealed and everyday carry: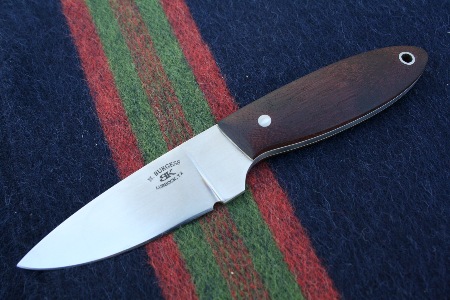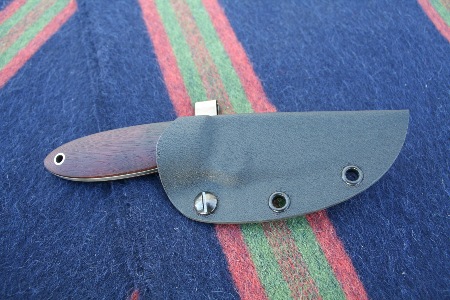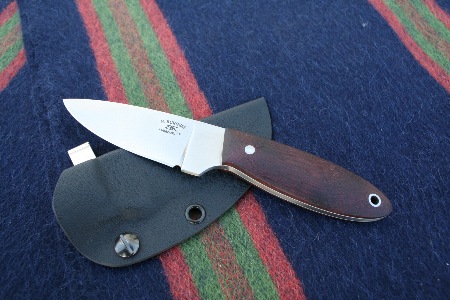 This knife was finished for a great customer in California. He requested Ironwood handle scales with black spacers. The Ironwood on this knife is exhibition grade burl that has a great figure to it. They look even better in person. The blade is my EDC style in CPM154 stainless. Unfortunately, I wasn't able to get any pictures taken of the completely finished knife before I had to ship it out, but these were taken very close to the finished state. There is no maker's mark, and you'll notice the blade has some smudges and hasn't been cleaned or sharpened yet: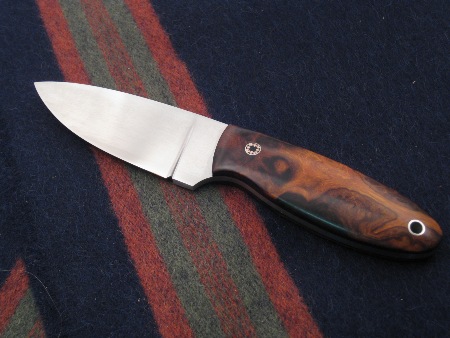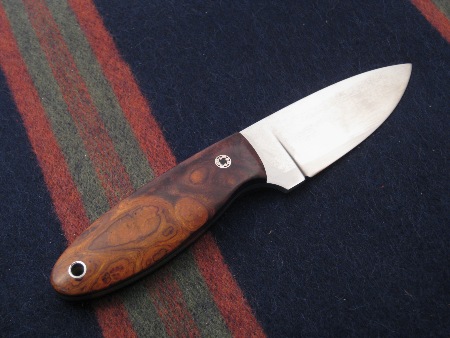 This knife isn't quite finished yet, and you'll notice that there is not maker's mark etched as of yet. I'm planning on removing and reworking the scales a bit to take care of a few flaws I noticed. Then it will likely be given away on Bladeforums. The steel is O-1 with a flat, pointy, wharncliff grind. Handle scales are jade colored G10 with white vulcanized liners: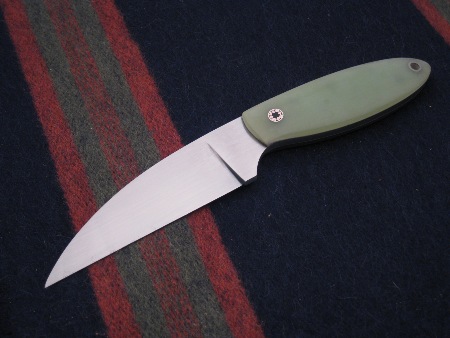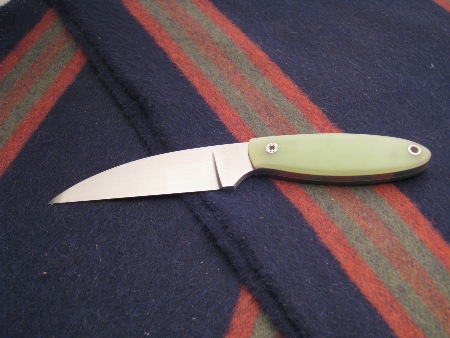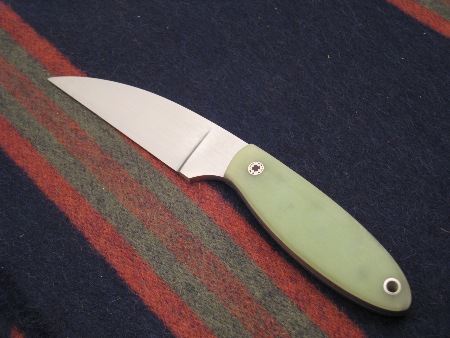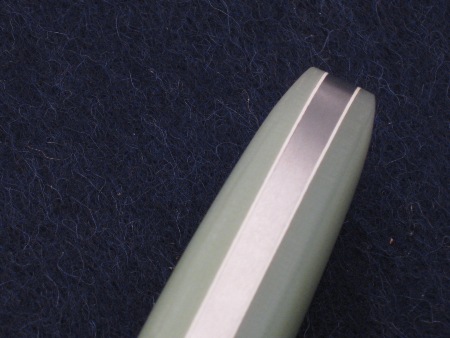 See more knives in Knife Gallery 2